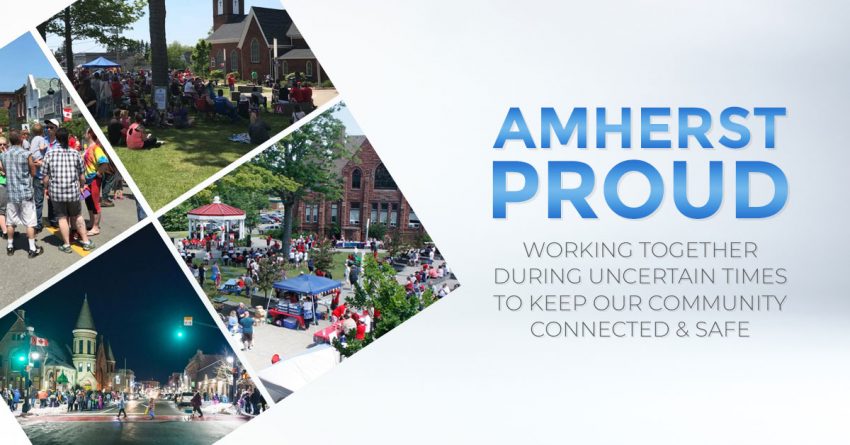 Amherst Proud
Amherst Vet Hospital
Cut back hours to protect staff and clients. Monday- Friday 9-5and Saturday 9-2.
For food and prescriptions we will bring items to your car- payment can be arranged over the phone- we can no longer accept cash.
We follow strict AAHA standards when it comes to cleanliness and hygiene.
Bambinos Pizza
Still open and still able to deliver and taking debit, credit cards and CASH
We are exercising STRICT disinfecting measures in our dining area, kitchens, restrooms, high traffic areas as well as using disinfecting wipes on debt machines for the safety of all staff and customers.
Canadian Tire Amherst
We would like our customers to know that we doing what we can to help stop the spread of the COVID-19 virus.
We are staying open but with reduced hours.
Monday to Friday 8:00 am – 6:00 pm
Sundays 10:00 am to 5:00
We are encouraging  our customers to use debit or credit to pay for their purchases
Harrisons Home Building Centers
We are adjusting shopping hours and limiting the number of customers in store to promote social distancing. We encouraging customers to do their browsing safetly online at homehardware.ca
Tantramar Chevrolet
Tantramar Chev is still open for sales and service! If you need your vehicle serviced, you can trust Tantramar Chev. Their service team is there to help those who need them most at this time, including emergency personnel and medical workers. They also offer free valet service to your door and will pick up, drop off, and sanitize your vehicle. So you can be confidant that Tantramar Chev's got you, and your safety, covered!
Taylor Ford Amherst
Taylor Ford Amherst sincerely hopes everyone is and remains safe and healthy.  The Covid-19 virus requires all to practice the proper communication, cleaning and disinfecting and they want to assure you they are practicing those techniques at Taylor Ford Amherst.  All departments remain open with reduced staffing levels to assist you.  Please be safe and if you have  automotive needs, be advised that we will pick up, disinfect and deliver in the greater Amherst area.
Ross Anderson Pharmasave Oxford: Oxford Pharmacy
We have temporarily changed the way our stores operate, to ensure we are here to help our customers for the duration of the Covid 19 pandemic.
Our doors are locked, but we are still here for all of your prescription and front store needs. Simply call us with any items you need and we will arrange delivery both in town and to our rural customers. Pick up of product at the front door can also be arranged.  No order is too big or too small!!!
We have taken the staff from our two stores and created 3 rotating teams, helping ensure we always have a healthy team to serve our customers.
All of these changes decrease our efficiency so it is more important than ever to give us 24 hours notice for refills. That way we can provide urgent prescriptions in a timely manner.
The easiest way to pay is with visa over the phone or by e –transfer.
Please call use with any of your health related questions and we can help guide you through these difficult times.